Podcast: Play in new window | Download
Subscribe: Apple Podcasts | Google Podcasts | Spotify | Stitcher | Email | RSS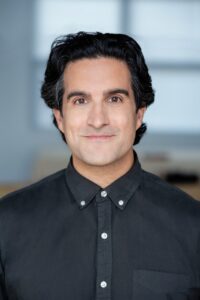 Ep. 67 — He built a successful startup while waging a life-threatening battle against bipolar disorder / Andy Dunn, Co-founder, Bonobos, and Author, "Burn Rate: Launching A Startup And Losing My Mind."
Andy Dunn would never have predicted that he would wind up naked and writhing on the floor of Bellevue Hospital's psychiatric Emergency Room in New York — in the throes of a massive bipolar episode. Nor that when he would be released from Bellevue a week later, he would be arrested on charges of assaulting his then-girlfriend -now-wife, and her mother.
That night in 2016 was a spectacular fall from grace for Andy Dunn, then the CEO and co-founder of the massively successful e-commerce-driven menswear brand, Bonobos.
It was the most consequential but not the first time that Dunn had wound up in terrible situations during his nearly-two-decade battle against bipolar disorder. All the while, he was leading and scaling Bonobos, which he ultimately sold to Walmart.
Dunn writes about his struggle with bipolar disorder in unsparing detail in his new critically acclaimed bestseller, "Burn Rate: Launching a Startup and Losing My Mind."
In riveting parallel narratives, Dunn uses his own relentlessly-cyclical battles against hypomania and depression, the hallmarks of bipolar disorder or manic depression as it used to be called, to place tech startup founders under an unsparing lens as he explores the prevalence of mental illness in Silicon Valley.
And he brilliantly parses the fine line between inspired genius and megalomania which are common traits among these exponentially successful entrepreneurs.
Thanks for Listening.
If you liked this episode, do check out these other episodes from When It Mattered:
Ep. 50. Great career despite insurmountable obstacles / Leigh Steinberg, Steinberg Sports
Ep. 21. Disenchanted doctor finds secret inspiration in heroin addict / Dr. Andrew Lees, Neurologist
Ep. 37. Tumultuous childhood led to career in human behavior / Nicole Fisher, HHR Strategies