Podcast: Play in new window | Download
Subscribe: Apple Podcasts | Google Podcasts | Spotify | Stitcher | Email | RSS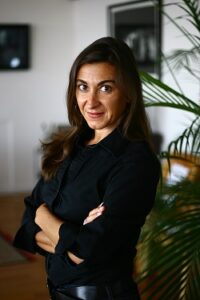 As the situation in Afghanistan deteriorates with shocking speed, tens of thousands of Americans and Afghan citizens — who've worked closely with Americans over the past two decades, are confronting perilous conditions as they try to reach the Kabul airport and leave the country.
Major news organizations are trying to extract both U.S. and fellow Afghan journalists even as these reporters put their lives on the line and continue to report from the field for as long as they can under dangerous conditions.  Meanwhile, human rights activists are increasingly concerned about the plight of women under the new Taliban regime.
Joining me now to talk about the situation in Afghanistan is the Pulitzer-Prize-winning photojournalist and war photographer Lynsey Addario. She has traveled in and out of Afghanistan, shooting groundbreaking photographs including of women under the Taliban before the 9/11 terrorist attacks. And she has continued her reporting in the two decades since the US invasion of Afghanistan — a period in which millions of women were able to get educated, join the workforce, and come into their own. Addario wrote an August 16th article in the Atlantic titled, The Taliban's Return is Catastrophic for Women.
She is the author of a book of war photographs, titled,  Of Love and War and the New York Times best-selling memoir It's What I Do, in which she writes about the incredible risks she has taken photographing every major conflict and humanitarian crisis of her generation, played out against the backdrop of the post-9/11 War on Terror.
This is my second conversation with the fearless Addario. To hear her personal story of how she became a photojournalist, how she covers major conflicts, how she survived a violent kidnapping in Libya, and why she does the work she does, do check out my previous interview with Addario on my leadership podcast, When It Mattered, Episode 35. It's an incredible story.