Podcast: Play in new window | Download
Subscribe: Apple Podcasts | Google Podcasts | Spotify | Stitcher | Email | RSS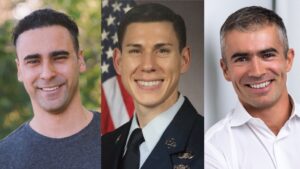 The U.S. Department of Defense (DoD) has been on the forefront of some of the biggest technological innovations in history. At the same time, the so-called, defense industrial complex — that is, DoD, in cahoots with the big legacy defense contractors or the so-called "Beltway Bandits" —  have also built  some of the most expensive, bloated, and bungled technologies known to man.
But now, increasingly, the Department of Defense is turning to lean, agile, and innovative software companies to build out its pipeline with dual-use technologies,  acting very much like venture capitalists to find and nurture the best of the best in startup technology.
Here to talk about how the military is on the cusp of a new wave of technological innovation are three great guests:
Daniel Borkhus is the Co-Founder and CEO of Holos, A virtual reality content management system. Borkhus is a former college football player, Facebook Hackathon Winner, and participant in Techstars Space 2020.
Jeremy Neilson is a U.S. Air Force Master Sergeant. He serves as the Acting Base, and F-35, Training Manager, at  Edwards Air Force Base, California. Sgt. Neilson is the primary advisor to Edwards Air Force Base, on bringing advanced technologies into the military pipeline through AFWERX, the innovation efforts related to Air Force Instructional Systems Design.
And James Boyd, is a former special forces soldier, Palantir engineer, and now CEO and co-founder of Adyton. That's a veteran-owned, venture-backed software company bringing mobile technology to the Department of Defense. Last year, Adyton launched Mustr, a mobile personnel accountability system which has been used to keep more than 8000 DoD personnel safe throughout the pandemic.