Podcast: Play in new window | Download
Subscribe: Apple Podcasts | Google Podcasts | Spotify | Stitcher | Email | RSS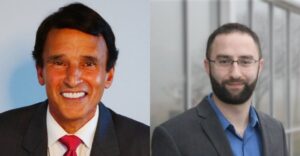 Welcome to the final episode of Season 1 of
Techtopia
! I thought it would be appropriate to end the year as we began it, talking about Covid-19 and its pernicious impact on our lives, psyche, and the healthcare system at large. Hard as it may seem to imagine, we're now entering year three of COVID-19 with a new variant, Omicron, upending lives globally. Two great guests join me in this episode to discuss our year in health or lack thereof and looking ahead to 2022. They are
Dr. Robert Pearl
and
Jeremy Corr
, co-hosts of two great podcasts:
Fixing Healthcare
, and
Coronavirus: The Truth
. Jeremy Corr is also the CEO of
Executive Podcast Solutions
and as many of you know, produces both my podcasts, Techtopia and When It Mattered. And Dr. Pearl is
the former CEO of Kaiser Permanente Medical Group. He is currently both practicing and teaching at the Stanford University School of Medicine. His new book is,
"
Uncaring: How the Culture of Medicine Kills Doctors & Patients
"
and all proceeds from his books go to Doctors Without Borders.