Podcast: Play in new window | Download
Subscribe: Apple Podcasts | Google Podcasts | Spotify | Email | RSS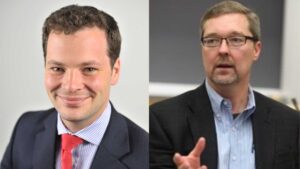 With Russia's unprovoked invasion of Ukraine — resulting in what's become the first war to be largely televised and video-recorded — Ukraine has become Ground Zero for how technology is reshaping history's narratives and the story of politics, war and conflict.
I have two great guests to talk about how technology is shaping human history and how it will be told. Bryan Cunningham and Alex Deane are co-hosts of a wonderful new podcast called, "Hidden History, Happy Hour", available on YouTube and all the major podcast platforms.
As my regular listeners know,  my friend Bryan is a frequent guest on both this podcast and my leadership podcast, When It Mattered (I've added his previous appearances below)
I'm also delighted to welcome Bryan's co-host, Alex Deane, author of the bestselling non-fiction book, "Lessons from History: Hidden Heroes & Villains from the past & what we can learn from them." The book inspired "Hidden History, Happy Hour".
Bryan Cunningham previous appearances:
Techtopia, Ep. 12 — Flying Saucer Pilgrimage
When It Mattered, Ep. 9 — A Deadly Fire Leaves Lasting A Legacy 
Other episodes referenced in this podcast in the section on UFOs.
WIM: Episode 55. Great-granddaughter of a SciFi pioneer spots a UFO / Alex Dietrich, US Navy
Techtopia: Episode 13. Astrophysicist searches for aliens/Adam Frank, University of Rochester 
Please like, rate, review, subscribe!