Podcast: Play in new window | Download
Subscribe: Apple Podcasts | Google Podcasts | Spotify | Stitcher | Email | RSS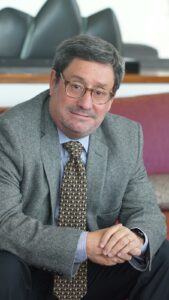 Ep. No. 63 — Kidnapped and held hostage by drug kingpin Pablo Escobar revealed the best and worst of humanity / Francisco Santos Calderón, former Vice President of Colombia and former Colombian Ambassador to the United States.
For months, Pablo Escobar, notorious head of the Medellín drug cartel and journalist Francisco Santos Calderon — one of his fiercest critics in the press, had been playing a dangerous cat and mouse game.
Escobar was intent on kidnapping Santos — then the Editor-in-Chief of El Tiempo, Colombia's largest and most influential publication — and other journalists, as a bargaining chip to prevent extradition to the United States to stand trial for his murderous greed.
Santos, tipped off to Escobar's intentions, had been changing his travel routes and work routines constantly to evade the cartel kingpin's henchmen.
But on September 19, 1990, Santos was riding home from work in his bulletproof vehicle when the unthinkable happened.
His car was surrounded by gunmen who killed his driver and kidnapped Santos who was one of 10 journalists and elites held hostage by Escobar that year. He was chained to a bed and held for eight months before being released. Santos was just 30 years old when Escobar snatched him off the streets. He was lucky to be alive. Between 1980 and 2000, nearly 180 journalists were killed for speaking up against the drug cartels.
Santos would launch a highly successful campaign to reduce the epidemic of kidnappings in Colombia. He left the country for two years to avoid getting assassinated by the Marxist-Leninist guerilla group, the Revolutionary Armed Forces of Colombia (FARC), after getting tipped off by the CIA about FARC's intentions. He worked at El País the most prominent newspaper in Spain.
Santos eventually was elected to serve two terms as Colombia's Vice President under President Álvaro Uribe. He subsequently also served as the Colombian Ambassador to the United States under President Donald J. Trump from 2018 – 2020.
Santos is now wearing his journalist hat again. He's highlighting the precarious political situation in Venezuela, and speaking out about Russia, China, and Iran, which he views as the unholy trifecta threatening the stability of geopolitics today.
In 1996, he and his nine kidnapped compatriots became the characters in "News of a Kidnapping," the English-language non-fiction book by famed Colombian novelist and Nobel Prize for Literature winner, Gabriel García Márquez. The book was originally published in Spanish the year before as "Noticia de un Secuestro.''
Santos declined to co-author "News of a Kidnapping" with Márquez, which he now says was "a very stupid decision on his part" but he later relented and spoke with Márquez over several days for the book.
Apart from Márquez and the journalists Santos spoke with after his release, in the nearly-32 years since his kidnapping, he has not shared his story at all in detail.
Don't miss this riveting episode of "When It Mattered."
Thanks for Listening.
If you liked this episode, please check out these other episodes:
Ep. 61 – Heroism, activism, reconciliation with nature / Jerry White, Nobel laureate, landmine survivor
Ep. 14 – Terrifying robbery and kidnapping reveals what truly matters in life / Stanley Alpert, Attorney
Ep. 20 – Brought back to life, undertook new mission / Frank Shankwitz, Make-A-Wish Foundation