Podcast: Play in new window | Download
Subscribe: Apple Podcasts | Google Podcasts | Spotify | Stitcher | Email | RSS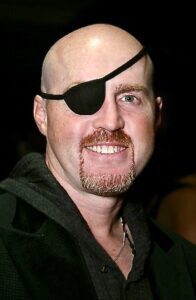 Ep. 68 — He survived a near-fatal shooting by a hitman hired by his ex-wife to become one of Hollywood's top stuntmen / Garrett Warren, Stunt Actor/Director
On May 20, 2000, Hollywood stuntman Garrett Warren was hanging out at his home in Westlake Village, California with his mom when the doorbell rang insistently.
When Warren opened the door, he found himself facing the barrel of a gun. What happened next was not a stunt scene with fake bullets. Warren was shot four times, including in his right eye, and left to die on his front porch.
The gunman fled the scene but not before he shot at Warren's mother twice, missing narrowly, after she came to the door to see what all the commotion was about.
Warren miraculously survived the attack but lost his right eye. His ex-wife, Claudio Haro, former wife of actor Joe Pesci, plead not guilty but was implicated in the attempted murder plot and sentenced to 12 years and four months in prision.
Since then, Warren has gone on to become an immensely successful stunt performer, stunt double, fight coordinator, and unit director in major movies including Avatar, Mission Impossible III, the X-Men movies, Logan, IronMan 2, Agents of SHIELD, and Spider-Man 2, to name just a few.
He has taught martial arts and fight choreography to such celebrities as Jessica Alba, Jada Pinkett Smith, John Travolta, and Dwayne Johnson, a.k.a., "The Rock," and is a personal trainer to many stars.
I learned a wealth of information about the world of stunt choreography through my fascinating conversation with Garrett Warren and I know you will too!
If you liked this episode, check out these other episodes:
Ep. 65. Mexican gangsters faked avocado purchase to launder ransom payment / Patrick Struebi, Fairtrasa
Ep. 63. Held hostage by a drug lord reveals the best and worst of humanity / Francisco Cantos Calderón / Former Vice President of Colombia
Ep. 61. Heroism, activism, reconciliation with nature / Jerry White, Nobel laureate, landmine survivor
Ep. 14. Terrifying robbery and kidnapping reveals what truly matters in life / Stanley Alpert, Attorney