Podcast: Play in new window | Download
Subscribe: Apple Podcasts | Google Podcasts | Spotify | Stitcher | Email | RSS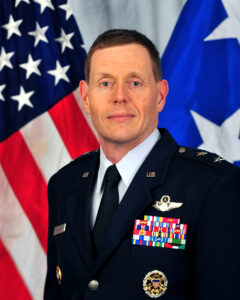 Ep. No. 70 — He built a career path at the age of eight to become a U.S. Air Force combat pilot and safe-keeper of U.S. nuclear weapons / Maj Gen Robert Wheeler, USAF (ret), CEO, Strategic Consulting Unlimited.
When Robert Wheeler was just 8 years old, his mother took him to the Chicago Air Show. It changed his life. From that moment on, Wheeler became obsessed with an unwavering goal: To become a U.S. fighter pilot.
Wheeler more than fulfilled his dream. During his 32-year career in the U.S. Air Force, he served as a combat pilot in the B-52 and B-2, earning more than 5,000 flight hours and seven operational commands, including Wing Commands in the two largest bomber wings in the Air Force.
Wheeler also served as the Deputy Director for Nuclear Operations, U.S. Strategic Command, Offutt Air Force Base, Neb. As such, he served as the principal adviser to the commander on issues pertaining to strategic deterrence and nuclear operations. He served as the command's principal flag officer responsible for management and oversight of the nuclear enterprise. He retired in March 2016.
Major General Wheeler's decorated career in the military culminated in his role as DOD Deputy Chief Information Officer for Information Infrastructure and Command, Control, Communications/Computers (C4), at the Office of the Secretary of Defense at the Pentagon.
In these critical roles, Wheeler obtained a wealth of knowledge about the ways of Vladimir Putin and has some key insights into the trajectory of the Russian President's invasion of Ukraine and Ukraine's surge of wins in the ground game in recent weeks. And he offers sobering insights into Putin's threats to use nuclear weapons against Ukraine if pushed too far against the wall.
Thanks for Listening.
👍 Please Subscribe and give a Thumbs Up!
🎙️https://bit.ly/ChitraRagavanChannel
👂Contact Chitra & Link to Podcast Platforms
When It Mattered:
🎙️ Ep. 60. Putin laid his cards on the table years before the Ukraine invasion / Gen. James Jones, USMC
🎙️ Ep. 66. Distinguished diplomat reclaims her narrative / Marie Yovanovitch, "Lessons from the Edge"
Techtopia:
🎙️ Ep. 29. How drones, crypto, and satellites are changing the future of war / Thomas Frey & Trent Fowler
🎙️ Ep. 26. Technology is rewiring Ukraine's narrative / Alex Deane & Bryan Cunningham
Do check out these related articles in SWAAY
✍️ The Incredible, Indomitable Super-Survivors of Ukraine
✍️ A "Genuine Badass": How Marie Yovanovitch Reclaimed Her Narrative and Reputation
✍️ Refugees in the Shadows: A Viral Insights Column on War, Displacement, and Super-Survivors