Podcast: Play in new window | Download
Subscribe: Apple Podcasts | Google Podcasts | Spotify | Stitcher | Email | RSS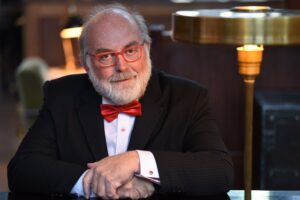 Ep. 71 —  A failed apprentice farmer turns into a renowned futurist / Thomas Frey, Founder and Executive Director, DaVinci Institute & Co-host, Futurati Podcast.
Born on a grain farm in South Dakota, Thomas Frey was an unlikely candidate to become a world-renowned futurist and public speaker. But then one day, when he was four years old, Frey's parents received a big mysterious box that would change his life forever.
His mom put him on a tractor at age 11 to distract him from the television but Frey would prove to be, in his own words, a "terrible farmer"—because his mind was always elsewhere. In fact, it was in the future. And that's where it has stayed ever since.
I was delighted to have a deep conversation with Thomas Frey on the future of the world. He's currently the founder and Executive Director of the DaVinci Institute & Co-host of the Futurati Podcast, with Trent Fowler. 
Over the past decade, Frey has built an enormous following around the world based on his ability to develop accurate visions of the future and describe the opportunities ahead. Before launching the DaVinci Institute, Frey spent 15 years at IBM as an engineer and designer where he received over 270 awards, more than any other IBM engineer. And if that isn't proof that he's no slacker, Frey also is a past member of the Triple Nine Society (the High I.Q. society for those over the 99.9th percentile).
If you liked this episode, check out these other episodes:
🎙️Techtopia:
29. How drones, crypto, and satellites are changing the face of war / Thomas Frey & Trent Fowler
28. How Artificial Intelligence is transforming the craft of writing / Iman Oubou, "The Glass Ledge"
27. North Korean hacks complicate USG's crypto-security efforts / Carole House, NSC, The White House
26. Technology is rewiring Ukraine's narrative / Alex Deane & Bryan Cunningham
24. What does IRS Criminal Investigation do? / James Robnett, Deputy Chief, IRS (CI)
21. Can machines replace humans? / Courtney Bowman, Palantir Technologies
12. Grandson remembers a "Flying Saucer Pilgrimage" / Bryan Cunningham, UC, Irvine
13. Astrophysicist searches for aliens / Adam Frank, University of Rochester
🎙️When It Mattered:
67. He built a successful startup while battling bipolar disorder / Andy Dunn, Author, "Burn Rate"
62. Machines are the new patrons of artists / Agnieszka Pilat, Conceptual artist
55. Great-granddaughter of a SciFi pioneer spots a UFO / Alex Dietrich, US Navy
38. Father's gift and brother's illness led him to crypto / Joey Krug, Pantera Capital, Augur.
30. Acting class led her to build social robots / Heather Knight, Oregon State University.
28. Dermatologist breaks mold in medicine, sports, Silicon Valley / Dr. Michelle Longmire, Medable
21. Disenchanted doctor finds secret inspiration in heroin addict / Dr. Andrew Lees, Neurologist
6. Martial arts contest gives polymath life lesson / Dr. Shawna Pandya, Citizen-Scientist Astronaut