Architecture of Narrative
When leaders want to tell their story, they trust Chitra Ragavan with their narratives.
For Chitra, crafting and sharing these stories with the world is a labor of love.
Chitra invites leaders from around the world to share one personal story that changed the course of their life and work, and how they lead and deal with adversity. Through these stories, Chitra and her guests take you behind the scenes to get an inside perspective of some of the most compelling stories and eventful moments of our time.
Chitra explores the latest technological revolution unfolding daily before our lives, interviews the creative entrepreneurs behind them, delves into the societal impact and legal, cultural, political, and economic nuances of these omnipresent innovations, and examines technology's profound impact on people, society, and the world.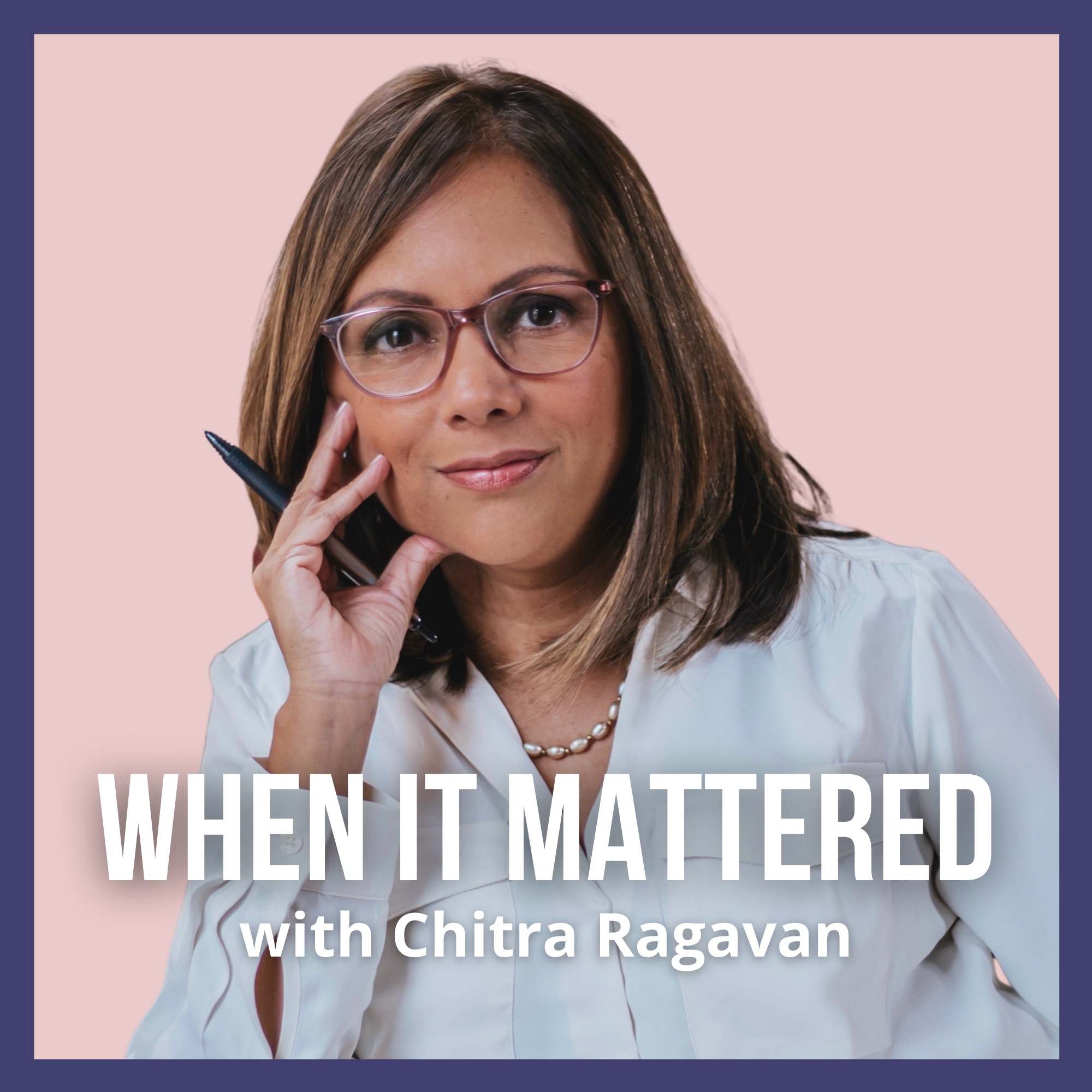 When it Mattered
How leaders are forged in critical moments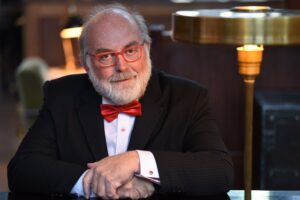 Ep. 71 —  A failed apprentice farmer turns into a renowned futurist / Thomas Frey, Founder and Executive Director, DaVinci Institute & Co-host, Futurati Podcast.
Born on a grain farm in South Dakota, Thomas Frey was an unlikely candidate to become a world-renowned futurist and public speaker. But then one day, when he was four years old, Frey's parents received a big mysterious box that would change his life forever.
His mom put him on a tractor at age 11 to distract him from the television but Frey would prove to be, in his own words, a "terrible farmer"—because his mind was always elsewhere. In fact, it was in the future. And that's where it has stayed ever since.
I was delighted to have a deep conversation with Thomas Frey on the future of the world. He's currently the founder and Executive Director of the DaVinci Institute & Co-host of the Futurati Podcast, with Trent Fowler. 
Over the past decade, Frey has built an enormous following around the world based on his ability to develop accurate visions of the future and describe the opportunities ahead. Before launching the DaVinci Institute, Frey spent 15 years at IBM as an engineer and designer where he received over 270 awards, more than any other IBM engineer. And if that isn't proof that he's no slacker, Frey also is a past member of the Triple Nine Society (the High I.Q. society for those over the 99.9th percentile).
If you liked this episode, check out these other episodes:
🎙️Techtopia:
29. How drones, crypto, and satellites are changing the face of war / Thomas Frey & Trent Fowler
28. How Artificial Intelligence is transforming the craft of writing / Iman Oubou, "The Glass Ledge"
27. North Korean hacks complicate USG's crypto-security efforts / Carole House, NSC, The White House
26. Technology is rewiring Ukraine's narrative / Alex Deane & Bryan Cunningham
24. What does IRS Criminal Investigation do? / James Robnett, Deputy Chief, IRS (CI)
21. Can machines replace humans? / Courtney Bowman, Palantir Technologies
12. Grandson remembers a "Flying Saucer Pilgrimage" / Bryan Cunningham, UC, Irvine
13. Astrophysicist searches for aliens / Adam Frank, University of Rochester
🎙️When It Mattered:
67. He built a successful startup while battling bipolar disorder / Andy Dunn, Author, "Burn Rate"
62. Machines are the new patrons of artists / Agnieszka Pilat, Conceptual artist
55. Great-granddaughter of a SciFi pioneer spots a UFO / Alex Dietrich, US Navy
38. Father's gift and brother's illness led him to crypto / Joey Krug, Pantera Capital, Augur.
30. Acting class led her to build social robots / Heather Knight, Oregon State University.
28. Dermatologist breaks mold in medicine, sports, Silicon Valley / Dr. Michelle Longmire, Medable
21. Disenchanted doctor finds secret inspiration in heroin addict / Dr. Andrew Lees, Neurologist
6. Martial arts contest gives polymath life lesson / Dr. Shawna Pandya, Citizen-Scientist Astronaut
Search Results placeholder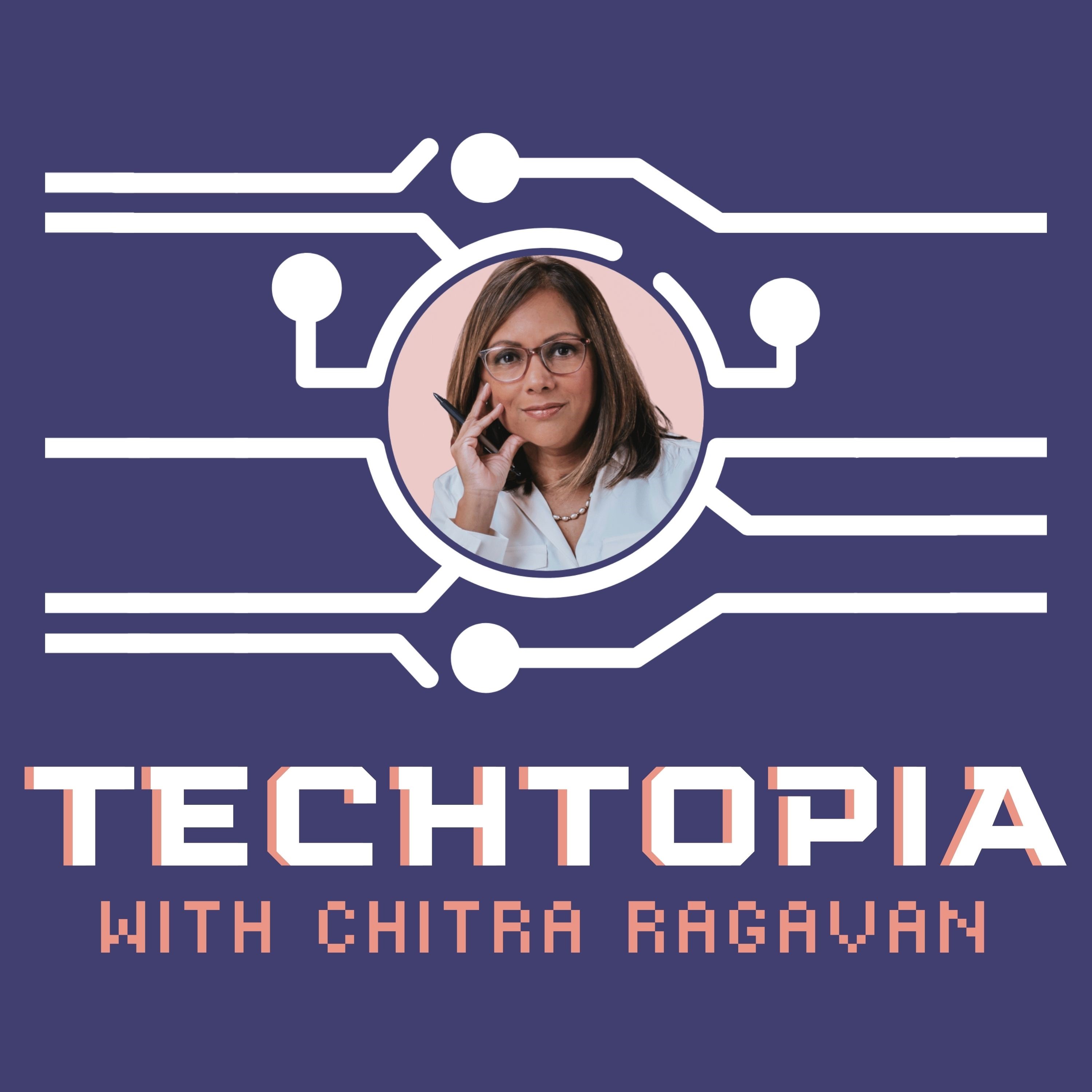 Techtopia with Chitra Ragavan
Techtopia with Chitra Ragavan is a podcast examining the power, peril and promise of technology. Chitra explores the latest technological wonders, interviews the creative entrepreneurs behind them, delves into the dark side of these omnipresent innovations and examines technology's profound impact on people and society.
Ep. 30 — A war photographer's images from Ukraine capture the toll of war and Ukrainian resilience, and humanity / Lynsey Addario, Pulitzer Prize-Winning Photojournalist.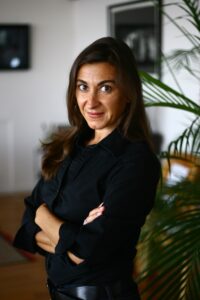 On March 7, 2022, The front page of the New York Times ran a graphic photograph that summed up the tragic cost of Russia's war on innocent Ukrainian civilians. It was a photograph of a mother, her two children, and a church volunteer crumpled to the ground. They were the victims of a Russian mortar attack on civilians as they attempted to flee over the Irpin River to Kyiv. The photo, which was was taken by the Pulitzer Prize-winning photojournalist Lynsey Addario, sent shock-waves throughout the world.
Capturing that image also put Lynsey Addario in grave danger, something that she has confronted many times over during her more than two-decade career as one of the most accomplished war-photographers in the world.
Addario has had boots on the ground in Ukraine since the begining of the Russian invasion. And, as we near the one year anniversary of the war, she describes the toll of the conflict on Ukrainian civilians and reflects on the personal cost of covering conflict.
Ukraine is just one of the war zones that Addario has traveled in and out of, on assignment for The New York Times, National Geographic, and other publications for more than two decades.
In 2015, American Photo Magazine named Addario as one of the five most influential photographers of the past 25 years, saying she changed the way we saw the world's conflicts.
I spoke with Addario when she made a brief stop in Washington DC on November 3rd to receive the prestigious Courage in Journalism Award from the International Women's Media Foundation.
This is my third conversation with the fearless Addario. To hear her personal story of how she became a photojournalist, how she covers major conflicts, how she survived a violent kidnapping in Libya, and why she does the work she does, do check out my previous interview with Addario on my leadership podcast, When It Mattered, Episode 35. It's an incredible story. And do listen to Addario's previous appearance on Techtopia, Episode 18, as she reflects on the 20th anniversary of the 9/11 attacks and the aftermath of the chaotic pullout of U.S. troops from Afghanistan.
Check out this 🎙️Youtube Democracy Playlist!
👍 Please Subscribe and give a Thumbs Up!
🎙️https://bit.ly/ChitraRagavanChannel
👂Contact Chitra & Link to Podcast Platforms
When It Mattered:
🎙️70. A protector of U.S. nukes evaluates Putin's nuclear threats / Maj Gen Robert Wheeler, USAF (ret)
🎙️ Ep. 60. Putin laid his cards on the table years before the Ukraine invasion / Gen. James Jones, USMC
🎙️ Ep. 66. Distinguished diplomat reclaims her narrative / Marie Yovanovitch, "Lessons from the Edge"
Techtopia:
🎙️ Ep. 29. How drones, crypto, and satellites are changing the future of war / Thomas Frey & Trent Fowler
🎙️ Ep. 26. Technology is rewiring Ukraine's narrative / Alex Deane & Bryan Cunningham
Do check out these related articles in SWAAY
✍️  A "Genuine Badass": How Marie Yovanovitch Reclaimed Her Narrative and Reputation
✍️  The Incredible, Indomitable Super-Survivors of Ukraine
✍️  Refugees in the Shadows: A Viral Insights Column on War, Displacement, and Super-Survivors
Thanks for Listening! 
When It Mattered And Techtopia are two top-ranked podcasts in the world.​
How Pioneers are Forged in Critical Moments
Let us Guide you on your Journey from Founder to Leader​