Techtopia with Chitra Ragavan
Techtopia with Chitra Ragavan is a podcast examining the power, peril and promise of technology. Chitra explores the latest technological wonders, interviews the creative entrepreneurs behind them, delves into the dark side of these omnipresent innovations and examines technology's profound impact on people and society.
Ep. 30 — A war photographer's images from Ukraine capture the toll of war and Ukrainian resilience, and humanity / Lynsey Addario, Pulitzer Prize-Winning Photojournalist.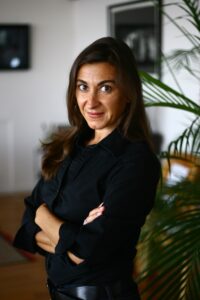 On March 7, 2022, The front page of the New York Times ran a graphic photograph that summed up the tragic cost of Russia's war on innocent Ukrainian civilians. It was a photograph of a mother, her two children, and a church volunteer crumpled to the ground. They were the victims of a Russian mortar attack on civilians as they attempted to flee over the Irpin River to Kyiv. The photo, which was was taken by the Pulitzer Prize-winning photojournalist Lynsey Addario, sent shock-waves throughout the world.
Capturing that image also put Lynsey Addario in grave danger, something that she has confronted many times over during her more than two-decade career as one of the most accomplished war-photographers in the world.
Addario has had boots on the ground in Ukraine since the begining of the Russian invasion. And, as we near the one year anniversary of the war, she describes the toll of the conflict on Ukrainian civilians and reflects on the personal cost of covering conflict.
Ukraine is just one of the war zones that Addario has traveled in and out of, on assignment for The New York Times, National Geographic, and other publications for more than two decades.
In 2015, American Photo Magazine named Addario as one of the five most influential photographers of the past 25 years, saying she changed the way we saw the world's conflicts.
I spoke with Addario when she made a brief stop in Washington DC on November 3rd to receive the prestigious Courage in Journalism Award from the International Women's Media Foundation.
This is my third conversation with the fearless Addario. To hear her personal story of how she became a photojournalist, how she covers major conflicts, how she survived a violent kidnapping in Libya, and why she does the work she does, do check out my previous interview with Addario on my leadership podcast, When It Mattered, Episode 35. It's an incredible story. And do listen to Addario's previous appearance on Techtopia, Episode 18, as she reflects on the 20th anniversary of the 9/11 attacks and the aftermath of the chaotic pullout of U.S. troops from Afghanistan.
Check out this 🎙️Youtube Democracy Playlist!
👍 Please Subscribe and give a Thumbs Up!
🎙️https://bit.ly/ChitraRagavanChannel
👂Contact Chitra & Link to Podcast Platforms
When It Mattered:
🎙️70. A protector of U.S. nukes evaluates Putin's nuclear threats / Maj Gen Robert Wheeler, USAF (ret)
🎙️ Ep. 60. Putin laid his cards on the table years before the Ukraine invasion / Gen. James Jones, USMC
🎙️ Ep. 66. Distinguished diplomat reclaims her narrative / Marie Yovanovitch, "Lessons from the Edge"
Techtopia:
🎙️ Ep. 29. How drones, crypto, and satellites are changing the future of war / Thomas Frey & Trent Fowler
🎙️ Ep. 26. Technology is rewiring Ukraine's narrative / Alex Deane & Bryan Cunningham
Do check out these related articles in SWAAY
✍️  A "Genuine Badass": How Marie Yovanovitch Reclaimed Her Narrative and Reputation
✍️  The Incredible, Indomitable Super-Survivors of Ukraine
✍️  Refugees in the Shadows: A Viral Insights Column on War, Displacement, and Super-Survivors
Thanks for Listening! 
Podcast: Play in new window | Download
Subscribe: Apple Podcasts | Google Podcasts | Spotify | Email | RSS
https://media.blubrry.com/techtopiawithchitraragavan/ins.blubrry.com/techtopiawithchitraragavan/Techtopia_29_RD1.mp3Podcast: Play in new window | DownloadSubscribe: Apple Podcasts | Google Podcasts | Spotify | Email | RSS Russia's war on Ukraine has turned a lot of assumptions about the…
Connect with your Inner Leader