Podcast: Play in new window | Download
Subscribe: Apple Podcasts | Google Podcasts | Spotify | Email | RSS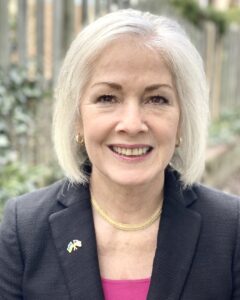 Ep. No. 66 — Fired by President Donald Trump, a distinguished diplomat helps impeach him and reclaims her narrative / Marie Yovanovitch, Former U.S. Ambassador to Ukraine and author, "Lessons from the Edge".
On April 24, 2019, in the dead of night, with no explanation, Marie Yovanovitch got a call from the U.S State Department, essentially removing her immediately from her post as Ambassador to Ukraine.
A few days later, back in Washington DC — a shell-shocked Yovanovitch learned the extraordinary details of why she had been fired from her job and that the man behind it was none other than her boss, President Donald Trump.
After the shock wore off, Ambassador Yovanovitch decided to fight back. Pilloried by the right-wing media, she publicly testified in Congress under oath during Trump's impeachment hearings, resulting in his first of two impeachments.
Yovanovitch has written a fascinating new memoir called "Lessons from the Edge," in which she systematically lays out the months-long attempts by Trump and his cronies to ruin her reputation and subvert democracy using a foreign power, Ukraine. And she describes how she seized back her narrative from the former president.
As Congressional hearings cast new light on Trump's last-ditch efforts to stay in power — culminating in the January 6, 2021 riots in the US Capitol by his supporters — I'm so honored to welcome the former US Ambassador to Ukraine, Marie Yovanovitch.
If you liked this episode, please check out these other episodes:
When It Mattered:
60. Putin laid his cards on the table years before Ukraine invasion / Gen. James Jones, USMC
56. Retired cop learns his job has just begun / Thomas Manger, US Capitol Police
15. Big-time political advisor returns to his small-town roots, finds urgent new cause /James Carville
Techtopia:
26. Technology is re-wiring Ukraine's narrative / Alex Deane and Bryan Cunningham